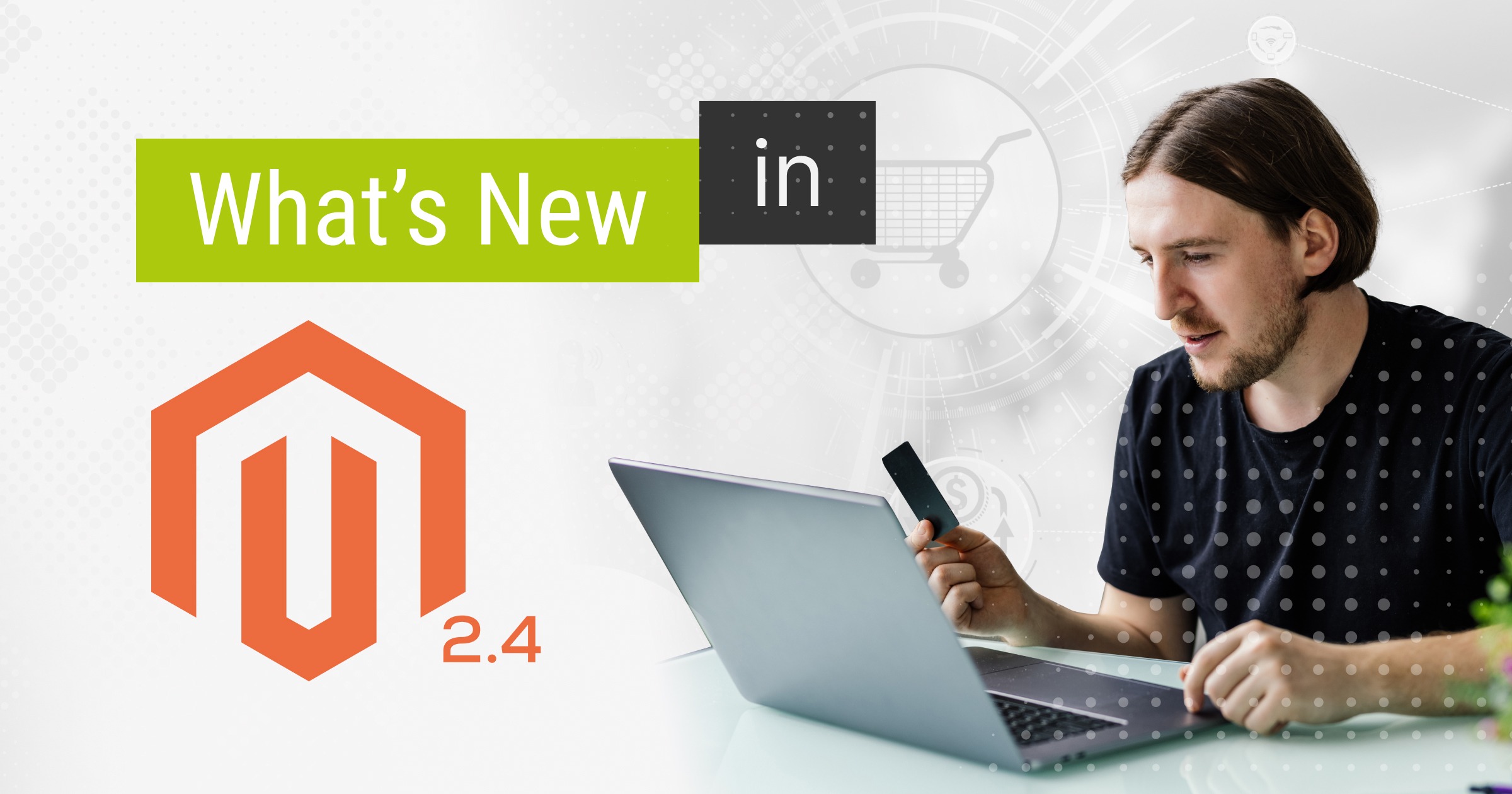 At the Luxinten office, we are enjoying using the latest update of Magento – 2.4 – which is packed with upgrades and improvements. While Magento 2.3 represented a revolution in e-commerce technology that will be discussed for years to come, we have to admit that version 2.4 is even better.
New and improved default search engine

Improved Media Gallery

New feature: Seller-Assisted Shopping

New feature: Purchase Approval Workflows (only for Magento Commerce)

Two-factor authentication for improved security

Higher overall technical requirements
For the thousands of online stores still on Magento 1, the new Magento 2.4 offers even more reasons for migration to Magento 2.
Default search
In Magento 2.4, the default Magento search engine is no longer powered by MySQL. Magento now requires you to install Elasticsearch on your server before going on with Magento 2.4.
New Media Gallery and Two-Factor Authentication
Here are two more improvements to the user experience, this time for Admin users.
Images sell. It is therefore obvious that instant access to superb images will streamline the sales process across your e-commerce store. Additionally, the new Media Gallery is integrated with Adobe Stock and you can access stock image previews directly from the Media Gallery.
Yes, Adobe is basically up-selling its stock images business. For all that, it's a good business and for some clients this feature is definitely worth considering.
Two-factor authentication improves the security of your Magento Admin account. The procedure is basically the same as in most services that have 2FA. A system-generated code is sent to the user as the second layer of authentication.
Seller-Assisted Shopping for Better Customer Service
With Magento 2.4's new Seller-Assisted Shopping feature, your Customer Service Representatives can log in as customers from the Magento Admin. This means they can guide and assist the customer through every phase of their purchase experience:
They can help the customer find a product

They can show them how to set up a specific feature, like a wishlist

They can guide the customer through custom functions that are best understood in the storefront experience (e.g. a product configurator)

They can save customers time by quickly creating orders and quotes on their behalf

And they can take care of administrative tasks like adding buyers and setting up approval rules
Purchase Approval Workflows (only for Magento Commerce)
This new function gives B2B buying companies better spending control, allowing them to set up approval mechanisms for individual purchases. To achieve this they can create approval workflows with specific rules based on order value, number of SKUs or shipping costs.
In-Store Pickup (or Click-and-Collect)
In-Store Pick Up is now native to Magento 2.4 and comes with both the Open Source and the Commerce versions. It enables displaying eligible pickup locations in combination with important info such as working hours. When an online order is ready for pickup, a store operator can notify the customer with a single click. There is also the potential for curbside pickup.
In-store pickup confers considerable advantages on any e-commerce business, for several reasons:
First, it improves conversion by removing shipping costs.
Second, it increases the chance of up-selling – some customers will make extra purchases when they visit the store to collect their online order.
Third, it is a great example of synergy between digital and the good ol' brick-and-mortar store.
New PWA Studio
According to Magento, the updated PWA Studio makes it "faster, easier, and more cost effective to launch PWA storefronts".
PWA Studio is a toolbox that has recently been augmented with more tools and best practices for building PWAs.
In our experience, PWAs do not presently bring enough growth in revenue to justify the high maintenance costs. Even after the initial construction of the PWA, you still need to link it to the right extensions and maintain it for future Magento versions.
Despite these shortcomings, the recent modifications to the PWA Studio are certainly a step in the right direction. It will soon be possible to tell if they can drive significant revenue growth for PWA merchants.
Headless
Headless is a solution that enables your e-commerce store to provide a customised user experience on all digital channels. Not just desktop and mobile – headless is the concept that will take e-commerce to the Internet of Things, allowing any number of physical devices to communicate via the Internet in the next stage of transhuman evolution.
We love to conclude our blog posts with some exciting 'blue sky' thinking…
Would You Like to Experience the Benefits of Magento 2.4?
Having seen the many advantages of Magento 2.4, many will be keen to experience them first hand. Not only is 2.4 an improvement on the seminal 2.3, it represents a huge improvement on Magento 1. Fortunately, our experienced developers have all the skills and knowledge to manage a complete migration on your behalf. Although migration depends on factors such as the size and complexity of your existing website, we generally achieve full migration in anything between three months and a year. And because of our extensive UI and UX design skills, the transition will be totally seamless for your customers.
Find out more about how we can help you migrate to 2.4 and develop your e-commerce business here.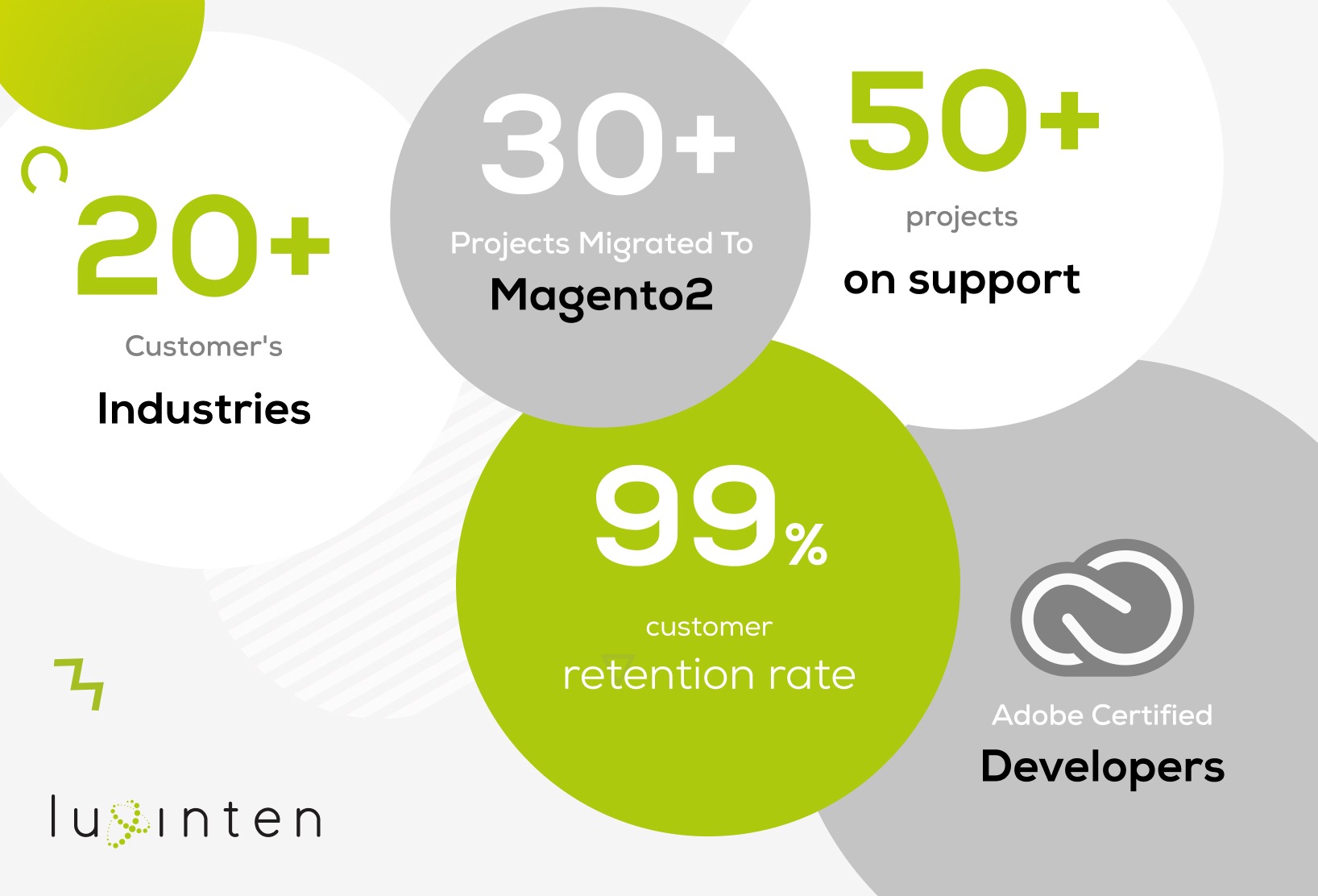 Some Key Luxinten Statistics:
30+ projects with annual support
25+ successful full Magento 2 migrations
250+ solutions implemented on Magento
99% customer retention rate
Adobe Certified Experts
If you want to know more about any of our services, please contact us.