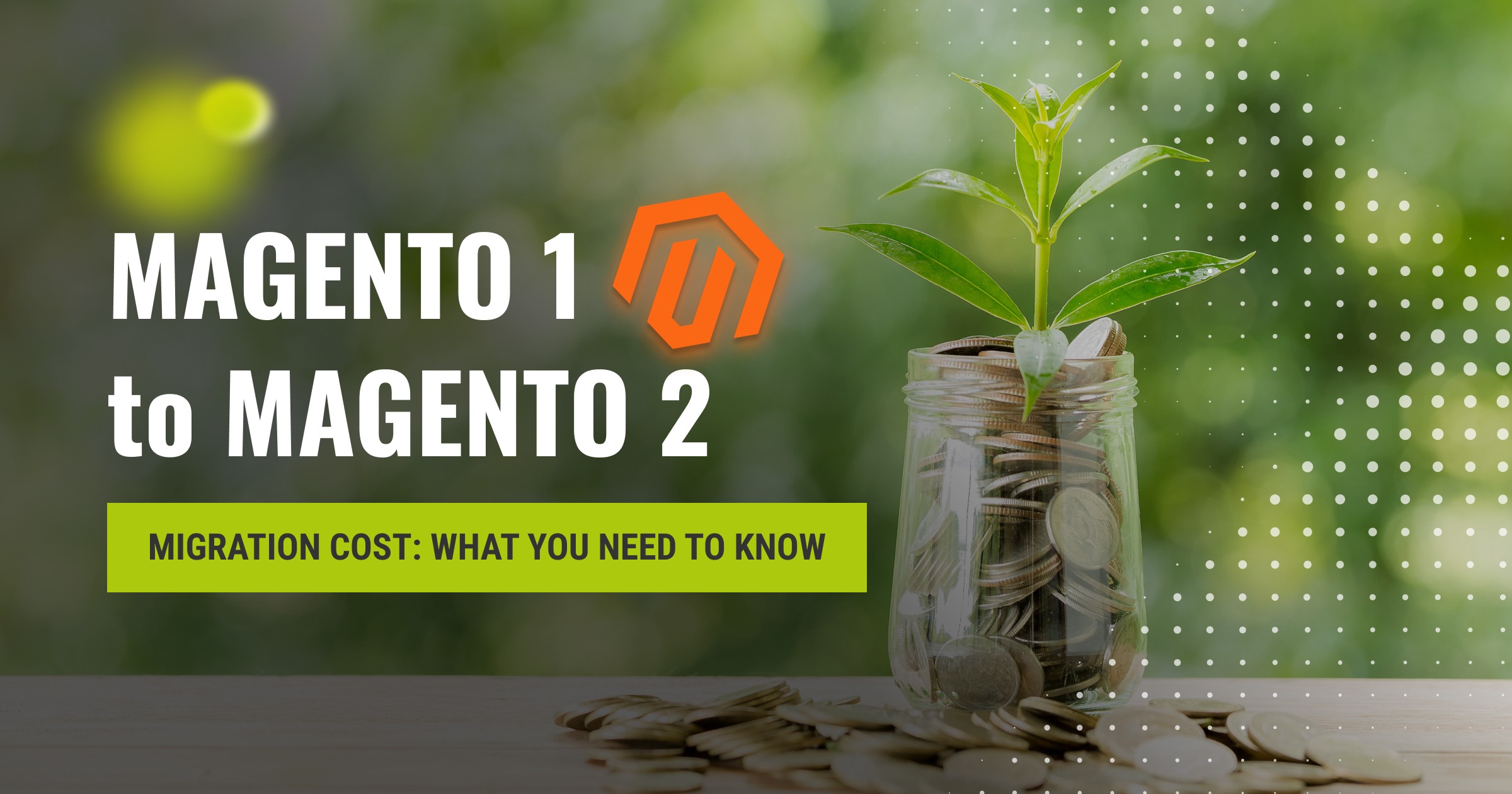 Upscaling Your Website: How much will migrating from Magento 1 to Magento 2 cost?
Magento 2 offers a more stable, secure and flexible service than Magento 1. If you are looking to improve your e-commerce website, Magento 2 is definitely the way to go. However, there is no single fixed cost for migrating to the newer platform because every merchant's needs are so different. In this article, we will explain the various factors you will need to consider in order to realize a safe and successful migration.
Reasons to Migrate
Magento 2 offers store owners numerous technical and administrative advantages over Magento 1:
Easily upload promotional videos for any product

Improved speed and performance

Better security measures

New customer engagement tools

Advanced SEO solutions

You are able to build PWA, as Magento 2 is based on GraphQL

Magento 2 supports the latest version of PHP, which is constantly improving its performance

Elasticsearch delivers quick and advanced product searches plus multiple language options and much more
In the hands of a competent developer, your customers should experience a seamless transition between your old store and the new one.
General Considerations
As a general rule of thumb, migration is easier and cheaper when your developer can apply more code from Magento 1 in Magento 2. However, some elements can only be partially applied while others cannot be transferred at all. Let's take a look at these elements and their solutions:
The database:
Magento's database migration tool should deliver a seamless migration to Magento 2. Migration will result in some downtime during the website launch while orders and customers are copied into the M2 database format.
Modules & Third Party Integrations:
A full list of your current modules in M1 shows the developer which modules are ready 'out of the box' in Magento 2, which modules can be repurchased on the marketplace and which modules must be developed from scratch.
Custom code:
While much of the structure can be transferred, the deep differences to M2's core code must be taken into account. In most cases, some development is required to deliver a viable solution.
The theme:
Magento 2's base theme requires a complete rewrite. This is where most of the work is involved in a migration.
Because so much modulation and work from scratch is required, a Magento migration from version 1 to version 2 typically costs 70-85% of a new Magento build.
THE STEPS TO MIGRATION
For a mid-sized project, a full migration will typically require 3-6 months to complete and costs will range from $20k to $50k. There is such a great variance in both the timeline and costs because every migration is unique, just as every website is unique. To give you some idea of the processes involved, here are the major steps:
Installing Magento 20 – 48 hours
The current server must be checked to ensure it can safely accommodate the installation and your developer might recommend adjustments or even a server upgrade. Once any issues have been ironed out, installing the latest version of Magento with every new patch, bug fix, and enhancement is usually a straightforward process.
Data Migration – 2 weeks - 2 months
Data transfer is one the most crucial stages when you migrate from Magento 1 to Magento 2. Though Magento provides a free toolkit to migrate data to Magento 2, it cannot deal with highly customized product data and dedicated scripts are usually required to facilitate customized data transfers. A small mistake can have very damaging repercussions – for example, losing product categories, sale orders, key customer data, blog and CMS content, ratings and reviews. This is why experienced developers usually undertake data migration.
Theme Migration – 1 week to a month
As we have discussed, theme migration is usually the most time-consuming aspect of migration. Fortunately, there are several solutions to the problem. Easiest of all, you can install and customize a ready-made Magento 2 theme (either free or paid) within 1-2 weeks. Your developer can also redesign your Magento 1 theme on Magento 2, although the UX design will take at least 1 month and the whole job 3-6 months to complete. Building a completely new design from scratch will typically occupy a similar timescale.
Modules & Third Party Integrations – 2 days to 2-3 months
After installing M2, new modules must be added. You can buy new Magento 2 extensions that deliver the same function and install them in the new store. If there are no available Magento 2 versions of your current extensions, your developer can build new ones with the same functionality.
Code Customization – How Long is a Piece of String?
Code customisation can take anything from 20 to 2000 hours or even more. Ultimately, it depends on the complexity and compatibility of the code in the previous version of Magento. In order for code customisation to be relevant and cost-effective in your Magento 2 project, you should list all the elements that worked poorly on your old website and present them to your developer before work begins.
Testing and Launch Preparation - 2-3 weeks
The following checklist outlines the tasks that must be completed before your new website is finally launched:
Speed optimization configurations for Magento 2

Image optimization

Sitemap configuration

Robot.txt

301 redirects

Email template configuration

SMTP module installation for emails

MailHog configuration for email delivery testing (optional)

Google Recaptcha (optional)

Google Analytics/Tag Manager configurations (optional)

New Relic installation and configuration (optional)

Server configuration for live website (installation of Redis, Varnish, configuration of Elastic etc.)

Recent data migration

Final tests and product release
Website Performance Optimization and Review
After setting up the Magento theme, data migration, installation of extensions and custom code development, adding all the settings related to languages, security, email templates, store views and CMS pages, the website must be optimized for best performance.
Some agencies offer a comprehensive maintenance package after finishing the migration.
If you enjoyed this article on Migration costs, you might want to read our article about How to optimize Magento Perfomance.
NEED TO MIGRATE TO MAGENTO 2?
Although migration depends on factors like the size and complexity of your existing site, Luxinten can generally achieve a full migration between three months and a year. We also offer a full consultation service and Magento 2 demo site so you can decide if migration is really the best option for you.
We also have extensive experience of developing websites for prestigious companies offering high-profile products and services. These include Reebok, Cat Watches, Merchoid, Litekraft, Ivy Lane Design and Mylee. We can tailor our services to suit businesses of all sizes and ambitions, from sole traders to multinationals. Beyond our vast technical experience, rigorous project management and UX design skills, flexibility and prioritizing the needs of our customers are central to our ongoing success.
Driven by the Covid crisis, shoppers are converting to online purchasing much faster than anyone could have predicted in 2020: projections for 2022 suggest online shopping will be worth $5.02 billion in the US alone.
Why not contact us to learn a bit more? You have everything to gain and absolutely nothing to lose.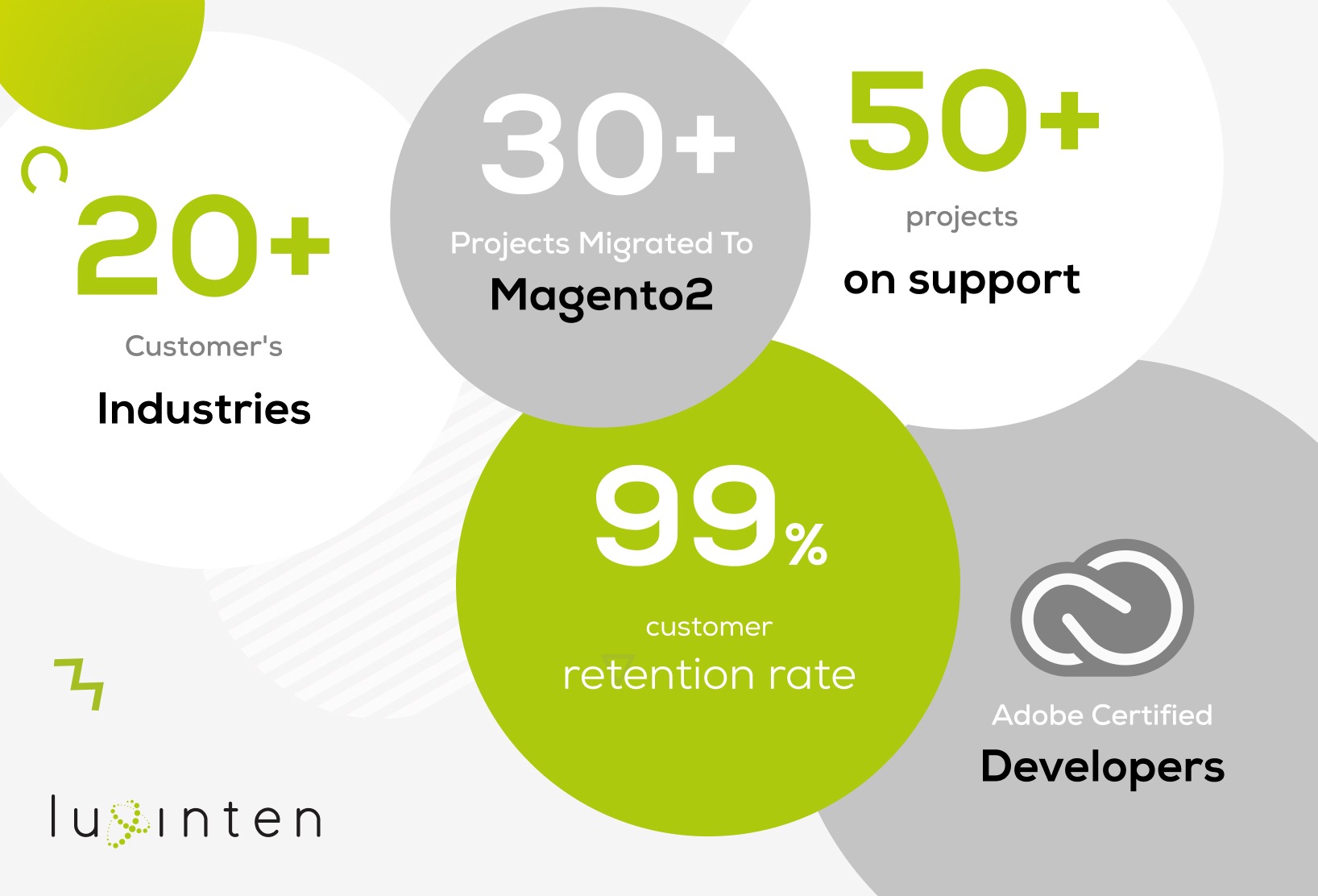 Some Key Luxinten Statistics:
30+ projects with annual support
25+ successful full Magento 2 migrations
250+ solutions implemented on Magento
99% customer retention rate
Adobe Certified Experts
If you want to know more about any of our services, please contact us.