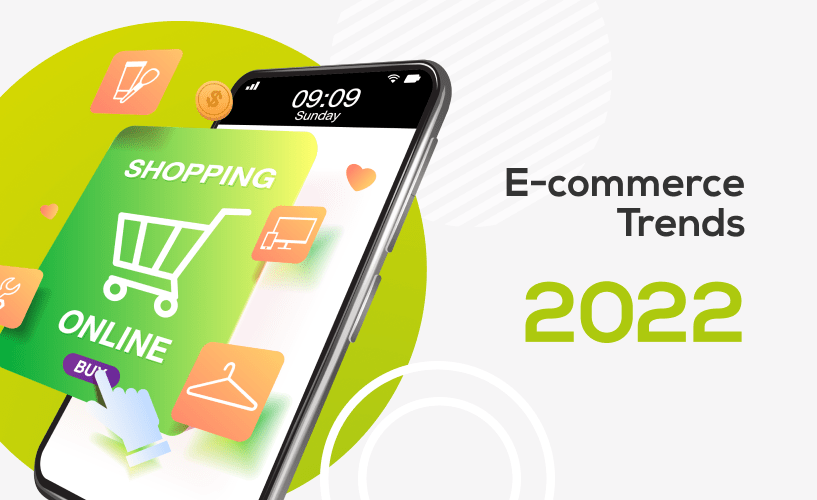 Life never stands still – and if this is true of life itself, it is even truer of e-commerce. Driven by the ongoing Covid crisis, shoppers are converting to online purchasing much faster than anyone could have expected in 2020: projections for 2022 suggest online shopping will be worth $5.02 billion in the US alone. New e-commerce technologies are emerging all the time and retailers who rush to embrace them will enjoy a distinct advantage over their competitors during the coming decade.
Let's take a look at the exciting trends which will become indispensable to savvy e-retailers in 2022…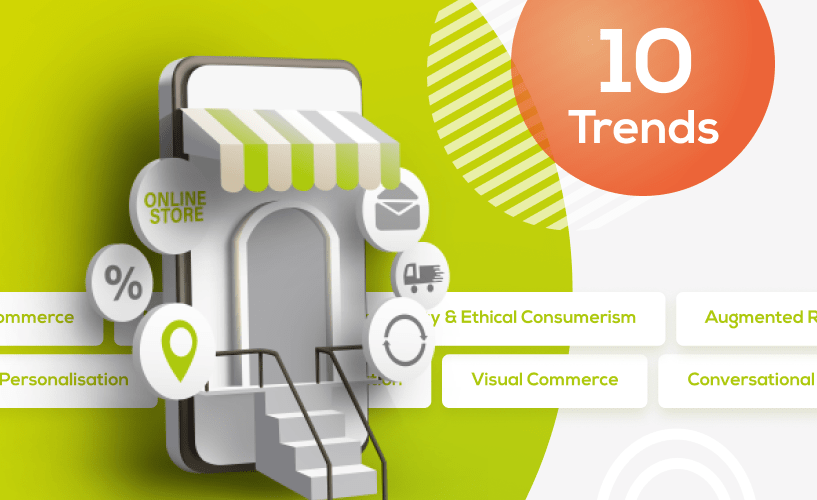 1. Sustainability & Ethical Consumerism
No reputable company can deny the importance of Global Warming or the Green Agenda and expect to retain public respect. In 2022, online retailers who do not integrate sustainability into their working processes will suffer in the crucial Zoomer and Millennial markets.
According to the EU e-commerce report (2021), customers prefer products that are packaged and delivered in a sustainable manner. Small, adaptable businesses better able to integrate sustainable agendas will benefit most from these cultural developments.
2. Responsive Web Design and User Experience
E-commerce design that adapts to user behaviour will become indispensable in 2022. Since users base 94% of their first impressions of a company on its website's UI, it is vital to have responsive web design in place across all relevant devices. Since Magento 2 was specifically designed for responsive web design, professional expertise in this field has never been more valuable.
Luxinten have vast experience of headless architecture, navigation tools, colour psychology, micro animation, speed-optimisation, single-page applications and mobile-friendly development and integration. Check out our UX Audit options to see how responsive design can transform your website and revitalise your business.
3. Personalisation
Since we now live in a post-digital era in which online shopping is the norm, offering highly-personalised experiences to consumers is essential to give retailers an edge on their competitors. 80% of consumers prefer personalised shopping tailored to their needs and vendors offering such experiences enjoy a 20% uptick in conversions.
The old generic marketing models no longer work in the post-digital era. Instead, retailers need to target customers as unique individuals. They must tempt every single customer with the brands, products and special offers they prefer, through the communications channels most appropriate to them. As Helene Trontz, partner at business firm Columbus Consulting puts it: "In the best personalized experiences, retailers make the customer part of the dialogue and leverage data to create one-to-one personalization".
4. Mobile PWAs
Progressive Web Application uses a variety of performance optimization strategies to provide a responsive experience or load content fast, even on slow networks. Moreover, mobile shopping will surpass all other shopping channels in 2022.
An effective PWA seamlessly guides and nurtures the customer from the moment they enter a store to delivery of their chosen product. Luxinten are experts in PWA development, with our PWAs boosting sales and conversions on mobile devices.
5. Augmented Reality
In 2022, we can expect to see social e-commerce platforms offering more AR options for consumers to preview products on digital simulations of their homes, faces and bodies. 69% of customers today expect to use AR\VR as they shop, and retailers are doing their best to adjust and implement this immersive tech. Examples of augmented reality in e-commerce retail.
Space visualization and virtual tours

Large products shopping - how the product will fit in customer's room

Color matching and outfit visualization

Building customer loyalty and brand engagement by offering fun and interactive experiences

AR fitting rooms and AR-enabled try-on.
6. Conversational e-commerce
With voice-reactive technologies like the Apple Siri, Amazon Alexa or Google Assistant present in many homes, the customer's voice will become an integral part of the online purchasing experience in the next year. In fact, 20% of intelligent speakers owners already use them for shopping and 41% of shoppers prefer live chat as a support channel, even when the voice is a bot. Whether you need to add your brand to Alexa or integrate a voice-actuated search input into your mobile site, Luxinten are here to help.
7. Social Commerce
Social media channels such as TikTok, Instagram and Facebook have literally billions of global users. In 2022, the tools to transform these social media platforms into profitable purchasing channels will be in place. Social Commerce will also strengthen mobile commerce, since netizens already use mobile devices to access 90% of social media.
8. Visual Commerce
Fired by faster mobile devices and ever faster broadband speeds, consumers are demanding better visual experiences from their favourite vendors. Expect 3d interactive visuals, QR tagging, visual search and image recognition, micro animations, 360 degree images and the WebP format to rapidly replace the static and outmoded JPEG file in 2022.
Luxinten has experience of integrating such things to e-commerce websites.
9. Livestream Shopping
In this exciting trend, prominent social influencers demonstrate products during live online broadcasts. Viewers interact with the presenters and make purchases using a chatbox facility during the demonstration. Already huge in China, Livestream Shopping is starting to gather steam in the US and other Anglophone countries. TikTok, Facebook, Amazon and Instagram are all developing Livestream Shopping facilities as part of their e-commerce operations while Magento offers a Livestream facility to online store owners.
10. Delivery Transformation
With drone technology becoming ever more advanced and affordable, incorporating autonomous vehicles into your delivery options will soon be indispensable for all retailers, especially those selling food and beverages. In addition, the emergence of mobile warehouses and data-driven supply chains will dramatically expand the purchasing options available to customers. Savvy businesses will want to future-proof their operations in order to maximize these remarkable opportunities when they really take off in 2022.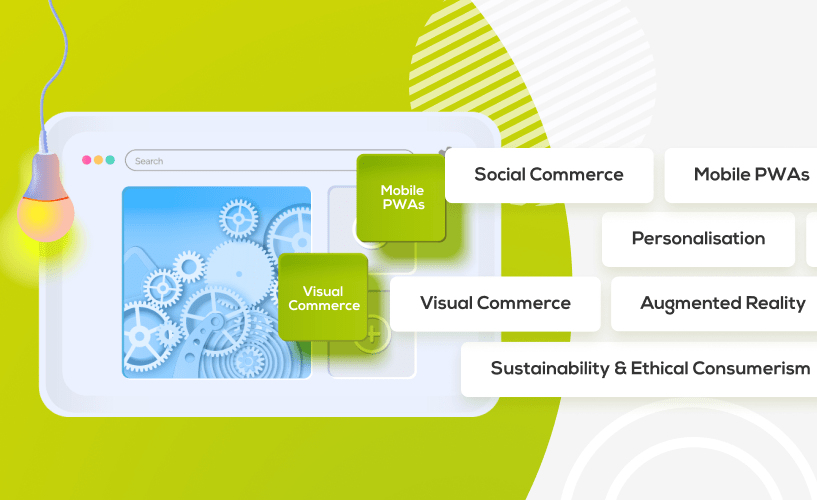 Conclusion?
While these ten trends seem unrelated at first glance, similar themes unite them all. For example, more energy-efficient delivery methods align closely with ethical consumerism. We are now living in a post-digital age, which takes digital technology as a given fact rather than a competitive advantage. This is why 'human' issues such as personalisation, optimal visual experiences and ethical considerations are assuming ever-greater importance in e-commerce. Consumer behaviour is fluid, not static; and the business that cannot continually adapt and improve will soon fall by the wayside.
Why not contact Luxinten to discuss how we can help you mine these ten exciting trends in 2022?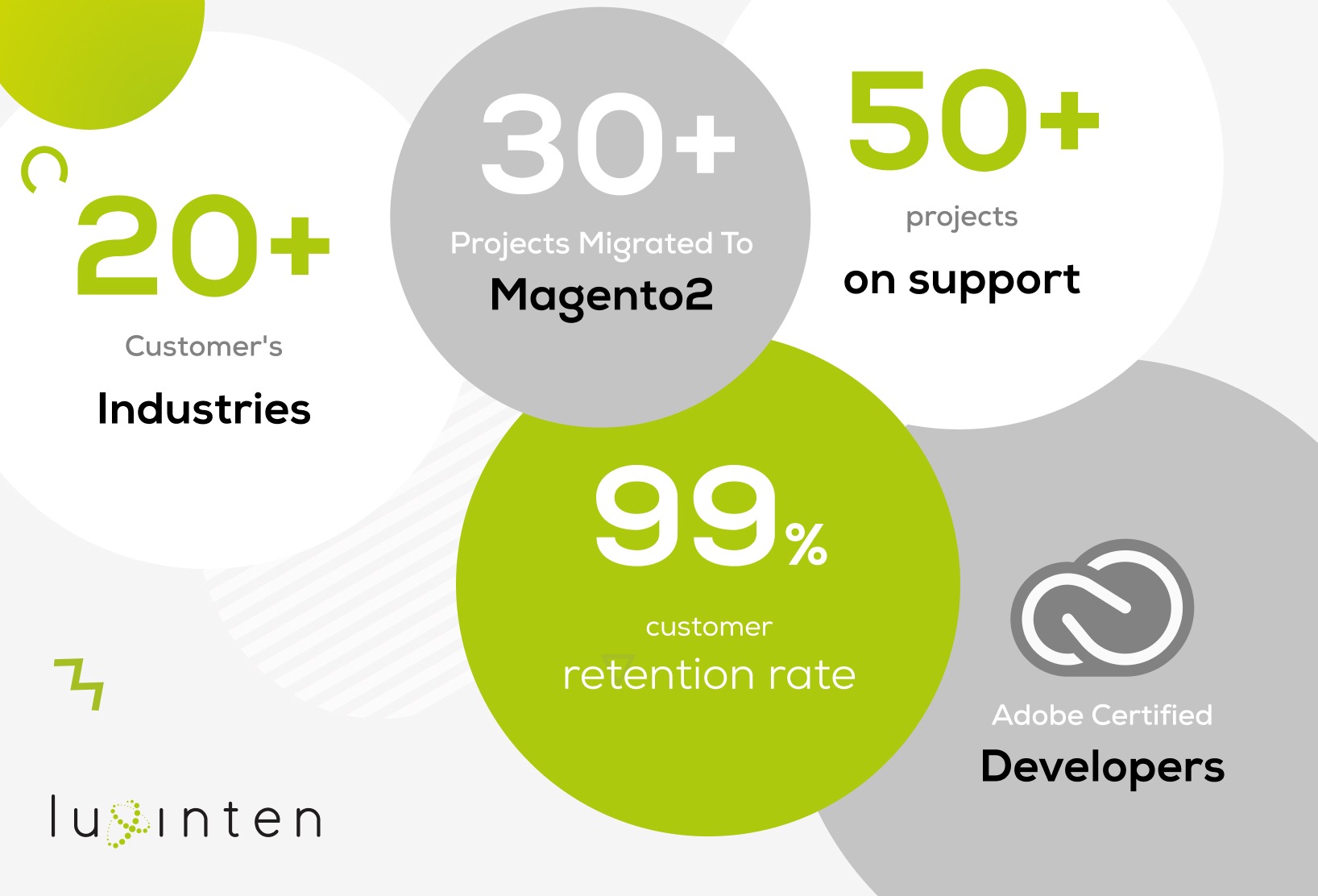 Some key Luxinten statistics:
30+ projects with annual support
25+ successful full Magento 2 migrations
250+ solutions implemented on Magento
99% customer retention rate
Adobe Certified Experts
If you want to know more about any of our services, please contact us.