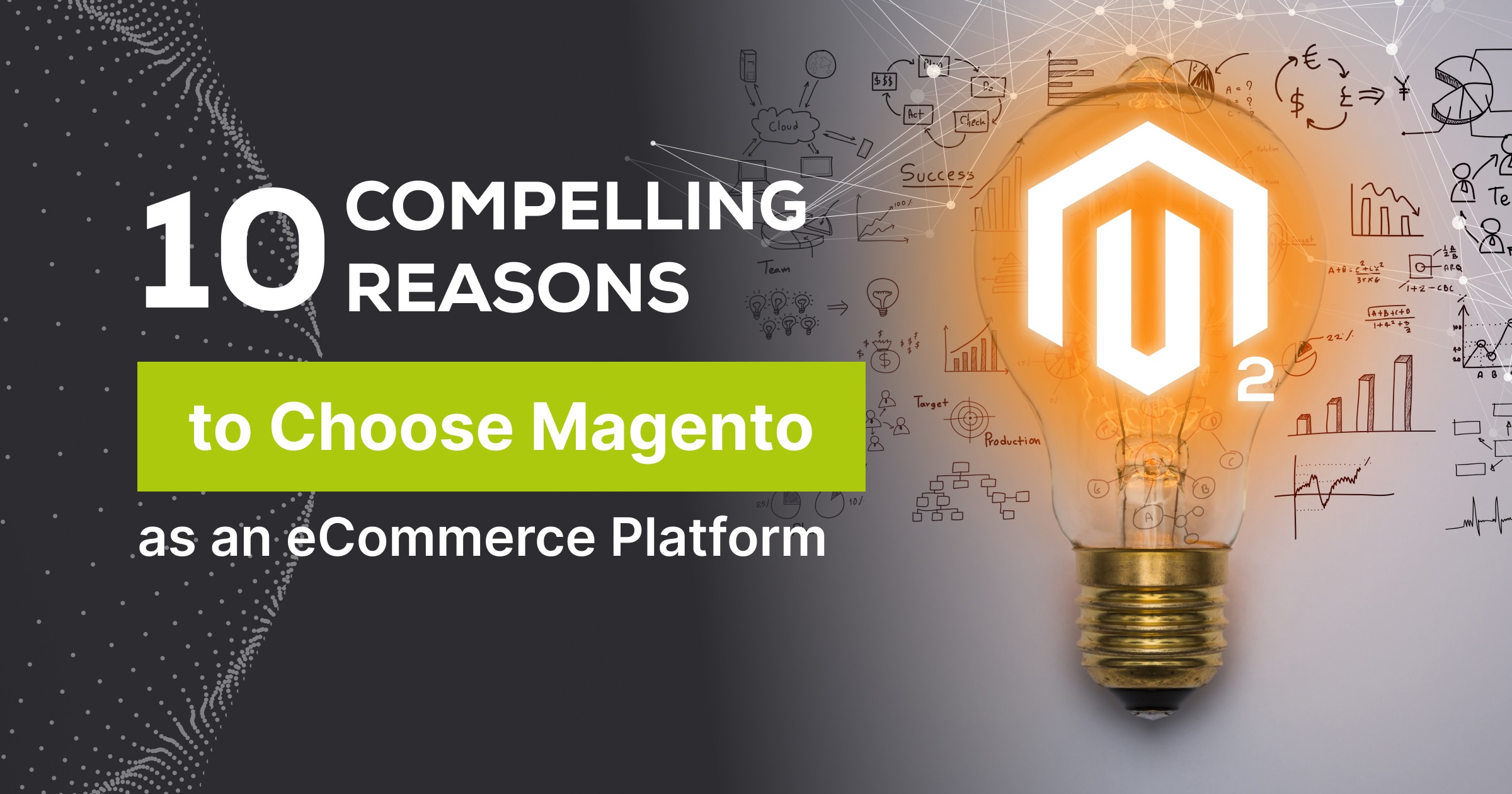 If you haven't been caught up in the magic of Magento yet, let us tell you about the amazing features of this e-commerce platform and what makes it the best solution for your webstore.
Before seeing why you should choose Magento, let's take a quick glance at the global organizations who are building their websites with this powerful platform. Although they belong to such diverse industries as fashion, food, and electronics, all seem delighted with their choice: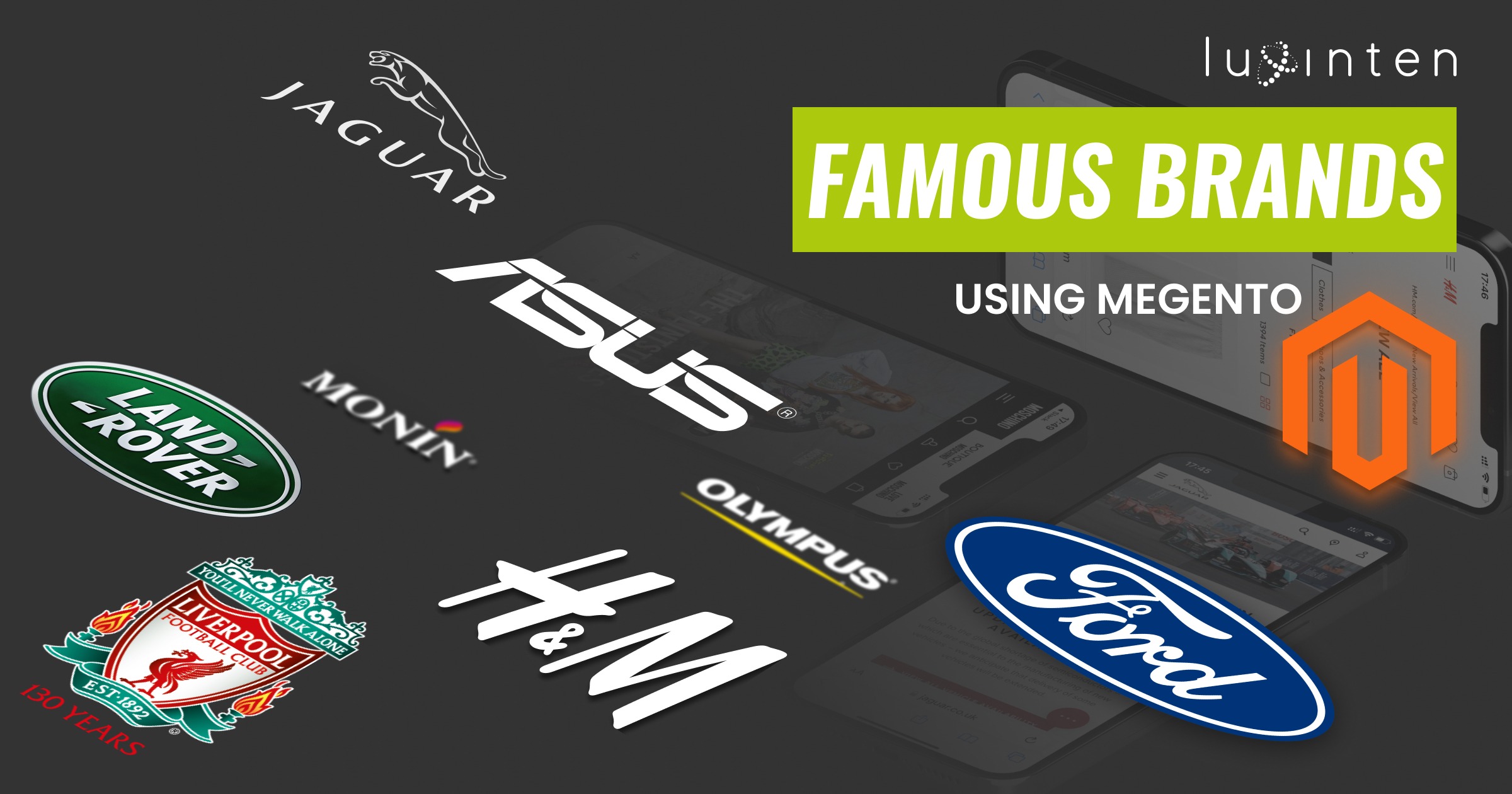 So what motivates these well-known global enterprises to select Magento as the best choice for their many customers? And what will motivate you to choose Magento from the dozens of e-commerce platforms available?
Here are the 10 most outstanding reasons which explain why Magento is the only choice for your business when building an online store.
1. Highly Effective Site Management
Magento 2 offers its users a convenient Administration Panel which allows you to manage every aspect of your website. You can control multiple stores from the same panel and even customize it to suit your needs. Winning elements of Magento's site management system include:
Administration permission system for allocating user roles

A variety of templates which can be changed to suit your needs

Support for multiple language and currencies

Easy-to-apply content management tools for landing pages

Excellent security: now you should enter the CAPTCHA to ensure that logins are not fake

Export and import of catalog and customer information
And it doesn't stop there. The numerous features and simple interface of the Administration Panel make Magento one of the very best platforms for effective site management, if not the best.
2. Modular Architecture
Magento consists of smaller modules with their own purpose and functionality, rather than being an all-in-one piece of software. If Magento was a large application, it would be impossible to apply any changes without freezing the whole website. But since it's not, you can easily add, install or delete any specific modules and extensions without sacrificing the active performance of your store.
3. High Performance
Magento's performance is highly impressive, especially if you are running your business on Magento 2. The platform has shown great results in various tests and demonstrates lightning-quick page loading, query processing and checkout time. The latest version also supports full page cache, allowing you to optimize the speed of your web store and make it super fast.
Here are the latest performance results for our client's Magento website: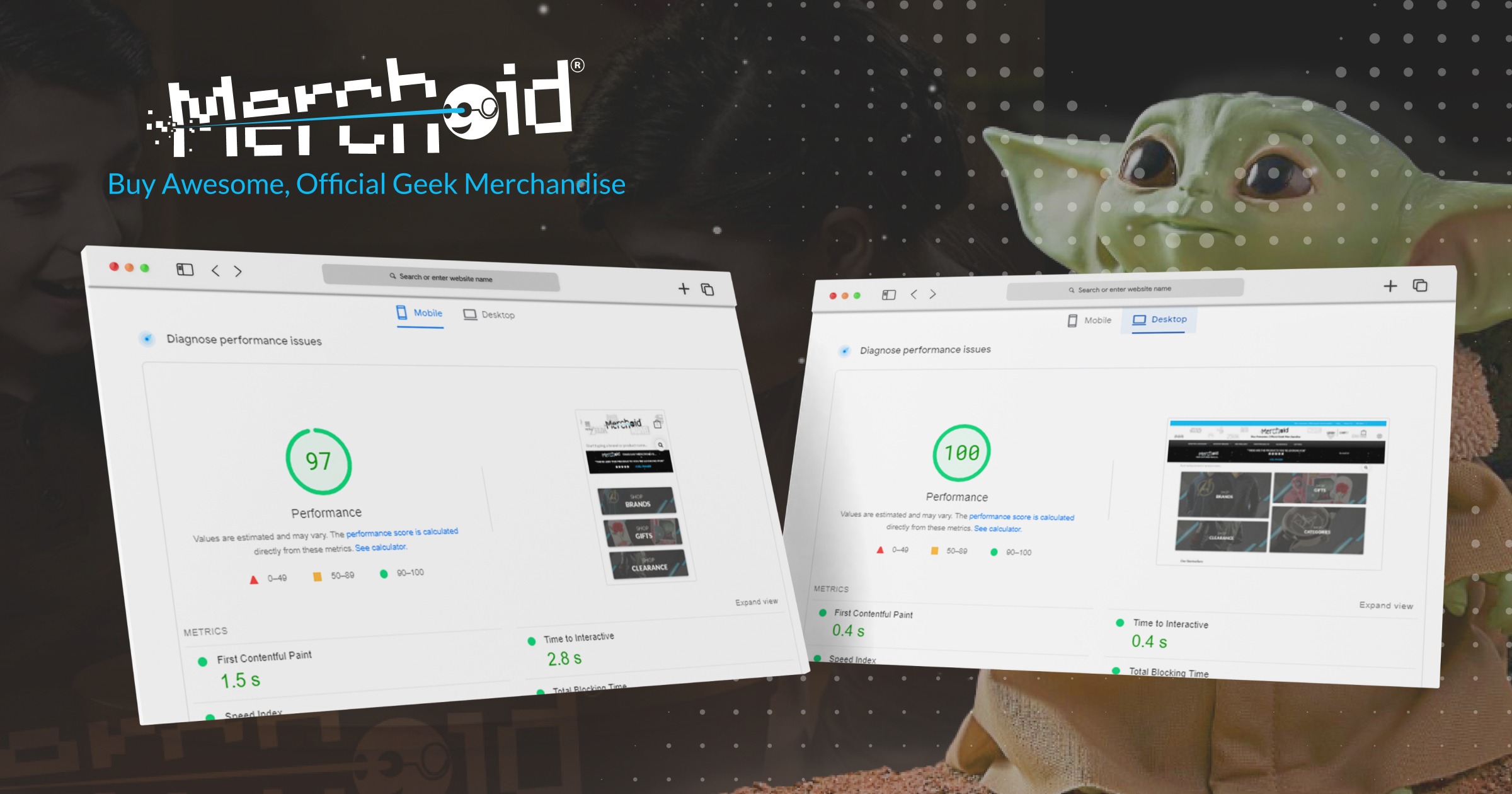 4. Strict Security Measures
Since everyone cares about the security of their personal data, effective security measures are a #1 priority. Security is also much more important for e-commerce stores than for blogs or other kinds of websites. Fortunately, Magento developers take security very seriously. Let's check the available security measures:
Enhanced password management

Prevention of cross-site scripting attacks

Frequent releases of updated security patches

Overall data vulnerability management

Secure Payment Bridge with PCI Data Security Standards and other security-related options
In sum, Magento is a highly secured platform.
5. SEO Friendly Features
Magento gives you every opportunity to adjust basic SEO settings right out-of-the-box. The platform offers the following options:
SEO friendly URLs

Meta-information for products, content pages and categories

URL rewrites

Description

Google Site Map
If you are not satisfied with the in-built features, there are many SEO extensions we can integrate into your e-commerce store. There are numerous of ready extensions which can be used for this topic.
As the examples which we are using are:
Amasty Google Page Speed Optimizer extension
Weltpixel Magento 2 lazy load products and images
Luxinten Seo Redirects - - our own extension
WELTPIXEL Google Analytics Enhanced Ecommerce Pro and some others.
6. Marketing, Promotion and Conversion Tools
Magento Open Source offers even more useful tools for a wide variety of purposes. You can run promotions and build your own marketing strategy without using any third-party services:
Categories

Related products

Product bundles

Promotional pricing

Coupons

Up-sells

Cross-sells

Newsletter management

Wishlists
In short, the abundance of features is truly dazzling to behold. No rival platform has more marketing tools or better ones.
7. A Multitude of Third-Party Extensions and Their Effortless Integration
The huge collection of third-party extensions available for Magento are truly extraordinary. The platform constantly evolves and every day we see more new plugins and applications compatible with Magento. The most demanded categories are:
Payment gateways

Shipping options and tracking

Social sharing

Performance boosters
We recommend you visit Magento Marketplace to witness this smorgasbord of technical delights for yourself.
8. Advanced Reporting
A ready, continuous flow of fresh data is indispensable to the success of any modern e-commerce business. Fortunately, Magento provides you with 20 distinct data reports on orders, shipping fees, registered accounts, popular products, sales categories and other key performance indicators. This vital yet accessible information will keep you ahead of market trends, in touch with your customers and most important of all, ahead of your competitors.
9. Mobile-Friendly Web Applications
Because mobile shopping is expected to surpass all other sales channels in 2022, it is absolutely vital that your e-commerce platform can adapt to a wide range of devices. Fortunately, Magento's flexible power produces websites that look good and function well on every device, from tablets to iPhones. In the highly competitive online marketplace, maximizing your reach is the difference between success and failure.
Magento also provides all the tools for creating PWAs or Progressive Web Applications. An effective PWA seamlessly guides and nurtures the customer from the moment they enter a store to delivery of their chosen product. PWAs use a variety of performance optimization strategies to provide a responsive experience or load content fast, even on slow networks. And because they can operate in browsers, these are perfect for mobile stores and make downloading bulky sales apps completely unnecessary.
10. Personalized Selling powered by AI
Fancy a big hike in conversion rates, better customer targeting and improved sales revenues? If you do, you will probably be a big fan of Magento's Product Recommendations feature. Powered by the latest Artificial Intelligence and machine learning technologies, Magento offers nine Product Recommendations categories including 'Trending' and 'Most Purchased'. These cross-selling and up-selling features provenly encourage 91% of customers to buy more when positioned prominently on an online store.
The fact that they are informed by algorithmic analysis of your customers' purchasing and browsing behavior is what makes these features so effective. They are continually revising their knowledge to deliver the recommendations your customers want at both the practical and subliminal levels.
Conclusion
If you are already using Magento and content with your choice, congratulations. If you just realized that Magento is the solution you were always looking for - well, congratulations again!
The e-retail sector is expected to hit revenues of $638 billion in 2022. We are now living in a post-digital age, which takes digital technology as a given fact rather than a competitive advantage. Consumer behavior is fluid, not static; and the business that cannot continually improve will soon fall by the wayside. This is why the many flexible and powerful features offered by Magento are indispensable to your ambitions.
As Adobe certified Magento experts, Luxinten can help you migrate your store from another platform or from an earlier version of Magento to the latest one. We can also revise the code of your existing Magento store to deliver an optimal e-commerce experience for your customers.
So why not contact us to discuss how we can help you apply all ten of these exciting Magento benefits in 2022? There is nothing on this list that we haven't applied on our clients' websites over the past decade.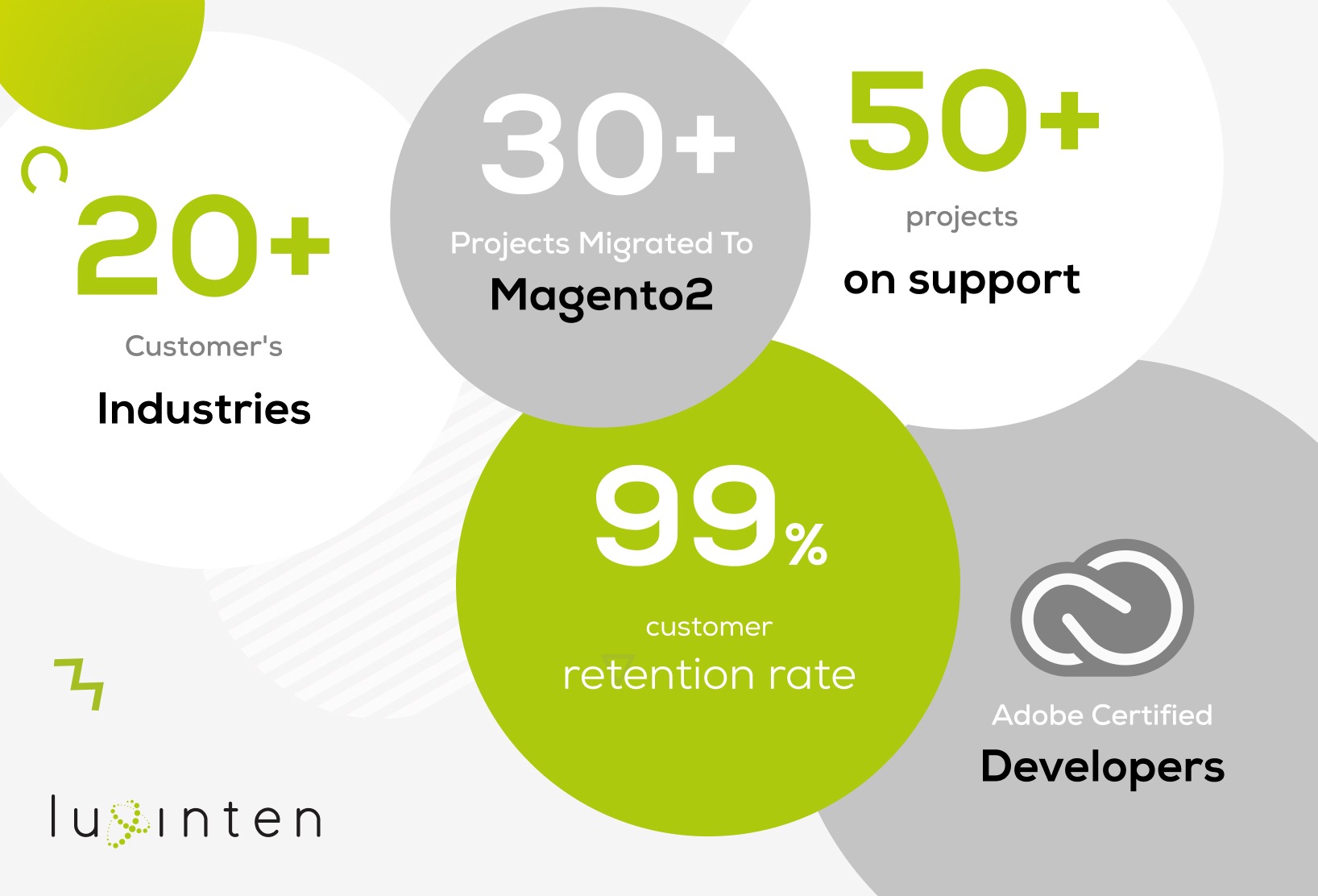 Some Key Luxinten Statistics:
30+ projects with annual support
25+ successful full Magento 2 migrations
250+ solutions implemented on Magento
99% customer retention rate
Adobe Certified Experts
If you want to know more about any of our services, please contact us.